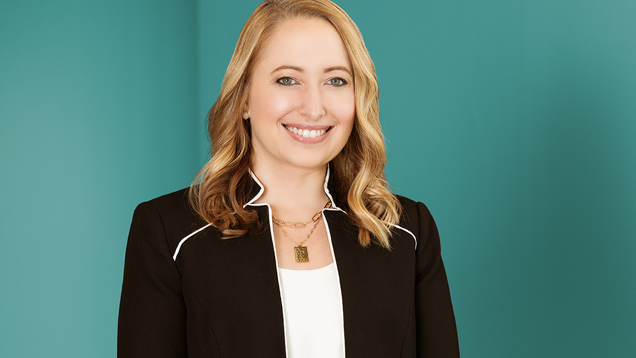 Amber Brestowski
Head of Advice and Client Experience, Institutional Investor Group
Amber Brestowski
Head of Advice and Client Experience, Institutional Investor Group
Ms. Brestowski is head of Advice and Client Experience in Vanguard Institutional Investor Group. Before this role, she led the Large Market Institutional Sales team and Participant Education. She began her Vanguard career in 2007. Ms. Brestowski earned a B.A. in finance and economics from Temple University and an M.B.A. from The Wharton School of the University of Pennsylvania.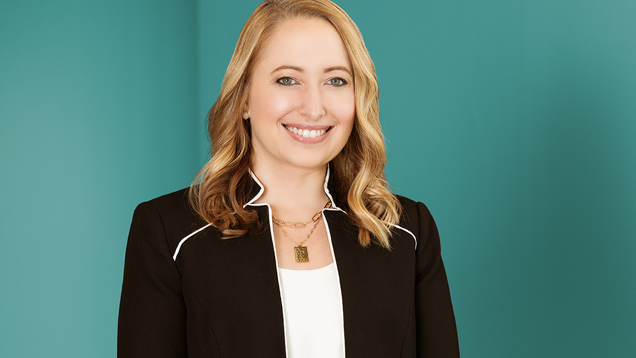 "DISRUPT or BE DISRUPTED" should be the new battle cry for the retirement industry, an industry that I believe is ripe for disruption.
When I was in business school, I loved reading case studies of industry disruption. Like pieces of a puzzle, the characteristics of the disrupted industries always came together in the same way. A customer experience that was fragmented or inconvenient, like the taxicab industry before Uber and Lyft emerged on the scene. New technological innovation that remained unutilized; think of how Netflix embraced digital content and streaming, leaving those who were slow to adapt playing catchup or becoming history. The word "commoditization" was thrown around as consumers struggled to distinguish between providers.
The retirement industry has many of these same puzzle pieces. Tethered in part or in whole to legacy mainframe systems, plan administrators are unable to fully capitalize on real-time enhancements in the same way that fintech companies can. Because of this, they are working overtime to piece together the integrated, personalized experiences that participants expect from digital service providers. It's like trying to create a new state-of-the-art app on a flip phone.
What is interesting, however, is that most retirement plan providers are pursuing one of two strategies to grow and compete in this challenging industry; neither strategy is truly disruptive. Some are growing by acquisition, but now they are just sharing one antiquated platform with the same challenges. Others are trying to modernize their platform themselves. While ambitious, this approach presents several challenges, including a constant trade-off between rebuilding the platform and introducing new features or experiences to plan sponsors and participants. There's also the challenge of attracting the tech talent needed to lead the replatforming efforts.
Vanguard is blazing a unique trail. From fundamentally changing the investment industry, we know that true disruption often comes from the outside in, so we are working long term with an experienced digital disruptor, Infosys. We will pair Vanguard's prowess in plan design, participant behavior, and participant advice with Infosys's track record of using technology to create leading-edge, customer-centric experiences.
Together, we are developing a blueprint for innovation, and we're more equipped to help your plan and participants succeed than ever before. The blueprint focuses on three key areas:
1. Future-proof foundation
2. Next-level hyper-relevance
3. Stronger, faster insight
As my colleague Paige Razzi said in her blog post, we're breaking new ground with the industry's first cloud-native platform.
Others may say they're "in the cloud," but that most likely means they're simply enabling their software to run on cloud hardware. So the software isn't optimized for enhancements. When technology advances, and we're in an industry that is always evolving, it will take a lot of time and effort for legacy platforms to implement the changes. Think about the flip phone experience I mentioned above.
By being cloud-native, we're building the platform from the ground up, enabling us to deliver continuous innovation and serve evolving client needs. We'll be able to immediately take advantage of every new enhancement that Amazon Web Services, our cloud provider, has to offer. We'll also learn and implement customer experience enhancements that are happening in other industries that Infosys works with.
Our approach also integrates application programming interface (API) service into the web experience. Open APIs provide plan sponsors with the flexibility to create custom plan management tools, integrate third-party services, and share plan data with consultants. And we're doing all of this without disrupting operations. While we're working on the back end to deliver an unmatched client experience, plan sponsors won't have to make changes to their own technology or procedures.
We're also going to build on our participant experience, which leads the industry in improving outcomes.* Gone are the days of service-level participant personalization (they're gone at Vanguard, at least!). Instead, we're enhancing our program of hyper-relevance to surround your participants with deeply personal, cohesive experiences, which includes individualized financial well-being guidance that helps investors balance their many competing financial priorities, such as paying down debt, creating emergency savings, or buying a house.
Through a fully redesigned web experience, your participants will receive relevant information tailored to them and their different needs. Every aspect of the digital experience will adapt to participant preference, including imagery, language, and navigation. We will track what is more effective in helping them take the next best action and continuously improve the experience to better help them reach their goals for years to come.

Our use of open APIs and microservices will also help here; participants will have the ability to take a holistic view of their financial picture and seamlessly move between their providers of choice.
I mentioned that we can see what messages and experiences are more likely to drive participants to action. But that's just the surface. Through our work with Infosys, we're implementing their holistic data solution called Genome. Running alongside our proprietary personalization engine, Genome can help us decode what we're calling a client's financial DNA and help us guide them in the right direction. We can construct behavior models in real time based on each participant's action and collect individual participant sentiment.
Plan sponsors will also directly benefit from our powerful analytics with plan design optimization and rolled-up participant sentiment tracking to get a real-time "pulse" on their participants' attitudes about financial health and retirement. Powered by the technology from Infosys and the industry expertise of our Strategic Retirement Consulting team, the plan sponsor web portal will deliver sponsor-level next best action guidance for both plan optimization and participant engagement.
All of this is made possible because of our client-owned structure.** It enables us to make these long-term strategic decisions to benefit investor outcomes.
We're building something truly special that has the power to help participants and plan sponsors across all industries. The best part is it's just the beginning.
"DISRUPT or BE DISRUPTED"
At Vanguard we have a tradition of disruption, all in the name of our mission to take a stand for all investors. The retirement industry is our next frontier.
* Sources: Vanguard's personalization system data reports an average email open rate of 37% and an average email click-through rate of 6.3%, as of December 2019. Industry average data provided by Campaign Monitor, Ultimate Email Marketing Benchmarks for 2020. For the financial services industry, the average email open rate is 20% and the average email click-through rate is 2.5%.
** Vanguard is client-owned. As a client owner, you own the funds that own Vanguard.
Note: All investing is subject to risk, including the possible loss of the money you invest.